Join BlingStallation on your favourite social network and stay updated on latest offers and promotions from BlingStallation
BlingStallation Head Office
20 Woodlands Drive
The Woodlands Office Park,
Block 22B, 1st Floor,
Woodmead, Gauteng
South Africa
Support: support@blingstallation.co.za
Follow us!
Call Centre: 010 448 8888






Headquartered in Petaluma, California, USA Furman is a product created by the Core Brands division of the Nortek Technology Solutions Segment ( NASDAQ listed company). Furman has been producing high-quality products since 1974. Their products fall into three broad categories: the professional audio and video signal processors on which the company was founded, the trusted AC power conditioning and distribution products for which they are best known, and the innovative energy management solutions which utilize their revolutionary BlueBOLT® cloud-based platform.
Their products provide lightening, power surge protection, mains filtration, power stabilisation, power backup, power monitoring and power management.
Applications for these products are no longer limited to music; Furman's product applications span a wide range of markets. Their highly acclaimed CE line, established in 2001, incorporates a complete line of AC power management products specifically engineered for today's custom home theatre and audiophile systems. Additional applications for the products include sound reinforcement; home and professional recording; post production; broadcast systems; commercial audio/video installation; and commercial/residential energy monitoring and management.
Furman's focus on engineering innovative, leading edge AC power technologies has led to revolutionary developments such as their trusted, professional-grade Series Multi-Stage Protection, Linear Filtering Technology, Extreme Voltage Shutdown, True RMS Voltage Regulation, and Power Factor Technology.
Furman provides a comprehensive range of premium power management solutions for A/V applications and innovative, easy-to-use energy monitoring and management solutions for residential and commercial use.

COMPACT POWER CONDITIONER WITH
AUTO-RESETTING VOLTAGE PROTECTION
AC-210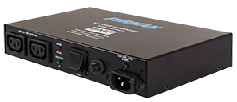 ELITE i-SERIES LINEAR FILTERING AC POWER CONDITIONER
ELITE-10-E-i
ELITE i-SERIES ULTRA-LINEAR FILTERING AC POWER CONDITIONER
ELITE-16-PF-E-i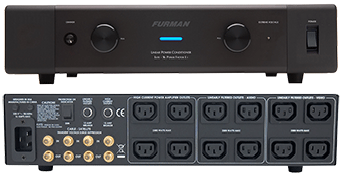 REFERENCE i-SERIES AC VOLTAGE REGULATOR / POWER CONDITIONER
SPR-16E-i
UPS POWER BACKUP with BLUEBOLT® TECHNOLOGY
F1500-UPS-E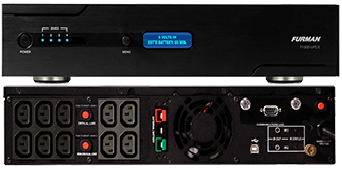 read more ...
read more ...
read more ...
read more ...
read more ...